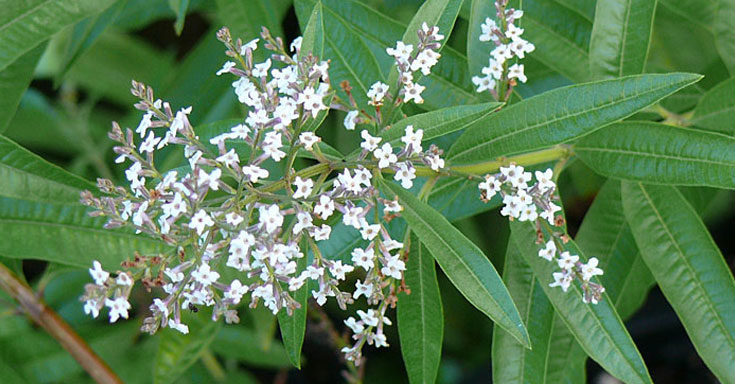 Healing benefits of Lemon Verbena
Lemon Verbena is a fragrant medicinal herb that has mild antiseptic, anti-inflammatory, and expectorant properties. Lemon verbena is excellent for the digestive tract as it is known to be good for relieving nausea, cramps, bloating, indigestion, heartburn, flatulence, diarrhea, stomach or gastro-intestinal spasms, and colon irritability. It is also often used as a natural as it has been shown to burn fat, break down cellulite, and regulate the metabolism.
Lemon verbena is highly beneficial for crohn's disease, colitis, celiac disease, sciatica, nervous twitches and ticks, and any stress related disorders. Lemon verbena also works as a natural remedy for Candida due to its powerful anti-fungal properties. Lemon verbena is also particularly good for the nervous system and can help relax the nerves and muscles, calm the mind, alleviate depression, ease anxiety, and provide a general overall feeling of peace.
Lemon verbena is also effective at loosening up and removing mucus from the lungs and sinus passages and can aid in providing relief from the symptoms of colds, coughs, flu, asthma, and sinus and respiratory infections. It is also helpful in reducing fever in the body. Lemon verbena is often used by women for its ability to help regulate their menstrual cycle and reduce the symptoms of PMS. Lemon verbena has a bright lemony scent and is a great addition to salad dressings, smoothies, fruit salads, baked goods, and rice and vegetable dishes.
Lemon verbena tea is a relaxing and medicinal tea that can be prepared by adding two teaspoons of dried or fresh herb to 1 cup of boiling water and allowing to steep for at least 15 minutes or more. Fresh lime and raw honey can be used if desired. Lemon verbena is a relatively easy herb to grow in a pot or in the garden. Dried lemon verbena can be found at your local health food store.
Tags: anti-fungal, anti-inflammatory, antiseptic, anxiety, bloating, burn fat, Candida, celiac disease, cellulite, colitis, colon irritability, cramps, crohn's disease, depression, diarrhea, expectorant, flatulence, gastro-intestinal spasms, heartburn, herbs, indigestion, metabolism, nausea, nervous ticks, nervous twitches, sciatica, slimming aid, stomach spasms, stress disorders