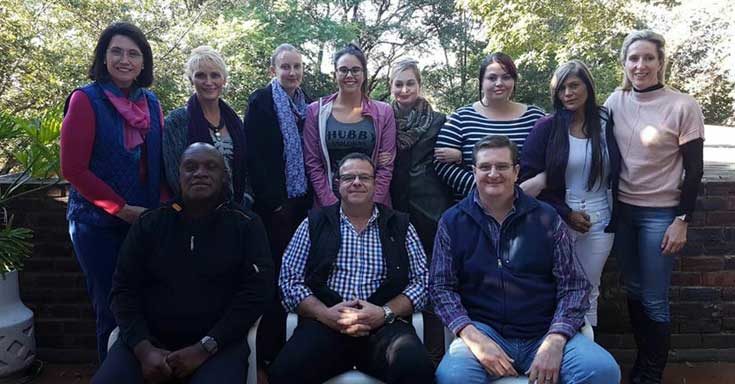 Acupuncture Course Testimonials
Tanya Page, Kwazulu Natal
"Doing the NADA Acudetox course has been a great educational journey for me and I am pleasantly surprised at the short time frame I could complete the course in as well. The course itself was informative and I enjoyed the "out of the ordinary" experience.
The theory training sped by in 3 days which truly felt like a group of old friends sitting and conversing about the ways of the world. The information gained in the training was eye opening. The practical part of the course was by far the most exciting for me as I love meeting new people. I had posted an invitation to people in my local community to attend sessions for my practical's and the buy in was overwhelming.
I have met from all walks of life and gained so much more knowledge just by the questions they have posed to me and it has been a wonderful experience sharing my new insight to assist people along their road to recovery. Whether it be for detoxing from addictions or for better health the results have been almost instantaneous. A truly exciting adventure."
– Tanya Page, NADA ADS – Ballito, KZN
---
________________________________
Riana Jansen V an Rensburg, Johannesburg
"I got interested in auricular acupuncture after reading about it on the internet, I decided to do acupuncture and see if it really do work. For myself I minimised my pain and cut down on a whole lot of medication. I have Chiari Malformation and have extreme pain, and this method helped me a lot.
My daughter of 12 has a lung condition. I used her as one of my case studies and over a short period of time she stopped her medication and did not have to use it again. The feedback from the many people I have treated in January is phenomenal. They sleep better, stop smoking and even people with anxiety disorder experience amazing results. They use less medication but are more relaxed.
This protocol has become my passion now and it is amazing to see the difference in people.
 – Riana Jansen Van Rensberg, NADA ADS – Pretoria, Gauteng
________________________________
Nthabiseng Malope Medical Student Witbank:
Dear Mr Whitfield,
The past three days have been a life changing experience. From learning about various contemporary ailments, to being made aware of the current situation with addiction in South Africa, the course presented important information in an exciting and relevant way.
The thought of helping people through acupuncture is something that I am passionate about. It ties in with my beliefs of achieving health through holistic healing. The knowledge gained from NADA SA was well presented with clear instructional manuals. The practical component was very educational and hands on.
I would highly recommend this course to anyone who cares about humanity. May acudetox continue to grow from strength to strength.
Kind regards,
Nthabiseng.
________________________________
Dr. Robert Durheim Homeopath Cape Town:
"I was extremely impressed with the Acudetox course, it was well structured and easy to follow. The theory was presented in a way that is both educational and easy to explain to patients. I would recommend this course to anyone who is looking to expand their knowledge about how the body functions and to add an effective treatment protocol to their practice to assist in helping patients with just about any condition."
Thank you again,
All the best,
Dr Robert Durrheim   M. Tech Hom (UJ) (cum laude)